Terry of Northland Concrete is very happy with his new toy!
A 2017 Fuso FP concrete pumper truck.
Its 28m boom it can pump up to 100m3 of concrete an hour.
Terry brought this particular unit in from Sydney Australia.
Extreme Global managed the transportation from the Roll On Roll Off Terminal at Port Kembla into the Auckland conventional port. This involves arranging the export documentation, ocean shipping, bio-security inspection (MPI), NZTA structural inspection (IVS) and customs clearance.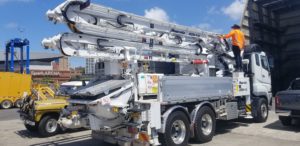 Terry stated
'After buying a concrete pump truck in Australia to bring in to New Zealand, I was a little nervous, and unsure where to start with importing and shipping, as this is something we had zero previous experience with.
However as soon as I made contact with Chris at Extreme Global, everything fell into place.
Chris, Krishna, and their team arranged and priced transport to port in AUS, shipping, customs and MPI clearance in NZ, and insurance throughout, as well as happily answering all my dopey questions from inexperience, and dealing with last minute pick-up delays in Sydney.
They made the whole process seamless, and I would recommend them to anyone looking at shipping.
…and it's all true!'
TERRY LARSEN, NORTHLAND CONCRETE PUMPING LTD